Planet Narnia: The Seven Heavens in the Imagination of C.S. Lewis by Michael Ward
I grew up reading The Chronicles of Narnia, and was always enthralled by the beauty and creativity of the series. With those books is the first time I remember consciously recognizing foreshadowing and symbolism on my own. As someone who is studying to teach English, it's with fondness I remember those experiences. When I saw that Ward had published a book about the seven books corresponding to the seven medieval planets, I avoided it for a while because I had some idea that it might taint those early memories of Narnia. I didn't want to see those stories broken down and analyzed to death. But let me say that Planet Narnia actually enhanced those initial memories for me. It was not a deconstruction; Ward's approach was respectful of the stories as whole. In fact, his explication tied things together in such a way that showed the stories to be more "whole" than I originally thought. For example, the first half of Prince Caspian, when the children are in the forests and the trees are awakened, always seemed a strange and inconsistent contrast to the the last half, which is all about duels and battles. An understanding of Ares as both militant and silvan deity unites the two parts of the story. I found myself totally engrossed in discovery while reading Planet Narnia, and even more impressed at the subtlety of Lewis. The exciting discoveries, the sensibility to the stories as they were meant to be read, and convincing explication has left me to view Planet Narnia as an exemplar of literary criticism.

Jesus of Nazareth, Part Two: Holy Week: From the Entrance into Jerusalem to the
Resurrection by Pope Benedict XVI
My dad gave this to me as an early Easter gift so that I could read it at the seasonable time of Lent. The individuality and centrality of Jesus Christ comes out so powerfully in Benexict XVI's writings. Certainly, the book gave me a deeper knowledge of how much my life is bound up in Christ's. It consistently presents Him as the One in whose presence every other desire pales to nothingness.

"...a distinguishing feature of the disciple of Jesus is the fact that he
'lives': beyond the mere fact of existing, he has found and embraced the real life that everyone is seeking. On the basis of such texts, the
early Christians called themselves simply 'the living' (hoi zontes).
They had found what all are seeking -- life itself, full and, hence,
indestructible life."
Pope Benedict discusses how Christ created us for this eternal life, made it possible by His death and resurrection, and calls us to life in the Gospels. The pope has impressive scholarly knowledge, but just as evident is his love for Christ, and how entirely his life is bound up in the Kingdom of God.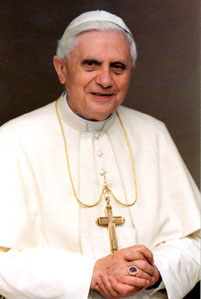 Milestones: Memoirs 1927-1977 by Joseph Cardinal Ratzinger

How interesting to read about the early family memories of Pope Benedict XVI and his close-call experiences as a youth in Nazi Germany. In one story, he and a group of his comrades were battered by an SS officer trying to make "'voluntary' recruits," but he was sent away (relieved) with "mockery and verbal abuse" because of his stated intention to become a Catholic priest! I also enjoyed seeing the passion he had for his studies in seminary, and how that carried over to his passion for teaching. He wrote with enthusiasm about a great many authors and works, and discussed some of his own first projects. These memoirs confirmed even more for me what a scholarly pope we have.

A Lucky Child: A Memoir of Surviving Auschwitz as a Young Boy by Thomas Buergenthal
This was a riveting story, and it was, of course, interesting to get inside another personal perspective of World War II and the Holocaust. I've heard the distant, unsympathetic facts of the Holocaust many times before, but a first-hand account brings the tragedy to life. In one part, he describes how his family took in two young children who had lost their parents. In the short time they were together, the children became like his siblings, but it only took a quick gesture from an SS officer and they were sent away to the gas chambers, never to be heard of again. Things like that stood out to me from the book -- the suddenness of his separation from his mother -- the way that life could be going one way and then change so dramatically in only a few moments. In the end, though, I was disappointed at Buergenthal's attribution to fate and fate only.
My Grandfather's Son: A Memoir by Clarence Thomas

I don't normally read this many memoirs, but here is another one I read over the summer. I didn't know much about Justice Thomas, but I had respect and interest for "the silent justice." His memories of the strong, consistent, disciplinary parenting of his grandparents, and especially of Catholic school and serving Mass, held my attention. I learned about the inferiority he felt, even after earning a law degree from Yale. The affirmative action dynamics at the time made him feel that his degree was worthless. He wrote that, "as a symbol of my disillusionment, I peeled a fifteen-cent price sticker off a package of cigars and stuck it on the frame of my law degree...Instead of hanging it on the wall of my Supreme Court office, I stored it in the basement of my Virginia home." His description of the "high-tech lynching" was enlightening. However, he certainly did not paint an idealized version of himself; I was surprised at the candid admittance of faults and acknowledgement of mistakes throughout the book. A disappointment I had was that he didn't give a clear indication of the nature of his faith in the end; however, I thought the book well-worth the read.
Lift Up Your Heart: A Guide to Spiritual Peace by Fulton Sheen
Sheen's writing is like his speaking: passionate, clear, and to-the-point, but not just to any point, to the right one. He hits on the true nature, purpose, and fulfillment of man. He is knowledgable about the field of psychology, and this was one of the first works I read that really connected psychology and spirituality. He exposes the lie that selfishness will bring any kind of peace, and shows how peace can only come from selfless love. He also proclaims unashamedly that selfless love can only come from God. My commonplace book has almost two full pages of quotes from this book; it is full of truisms. Something I especially loved was his line-by-line exposition of parts of Francis Thompson's
The Hound of Heaven
,which has become a new favorite poem. It's a pleasure to read someone so devoted to Christ who is also so well-read!
Even though I tend to be hesitant about mystics and miracles, it intruiged me that one of the few Vatican approved Marian apparitions took place in a little town in Rwanda. I thought that the prophecies of the genocide were convincing, and I was familiar with Immaculée from EWTN and her book Left to Tell about her experiences of the Rwandan genocide. I expected it to be a good story, but I didn't expect it to delight me like it did. I've had some emotional reservations about Marian devotion, but this story seemed to melt them away. The manner in which she appeared to the children was so simple and motherly. The children felt so surrounded by love that they would laugh and giggle in her presence. She showed intense love for her "children" in the messages she gave, and also wisdom, even though her words were so simple. I enjoyed reading about it from Immaculée's perspective, because she was a child when they apparitions began, and witnessed miracles -- not just physical miracles, but changes in the hearts of her family and village. Reading this book, there's been a change in me as well -- a greater devotion to Christ through Our Lady, and a deepened understanding of the mysteries of the faith through the Rosary and the special Rosary of the Seven Sorrows.